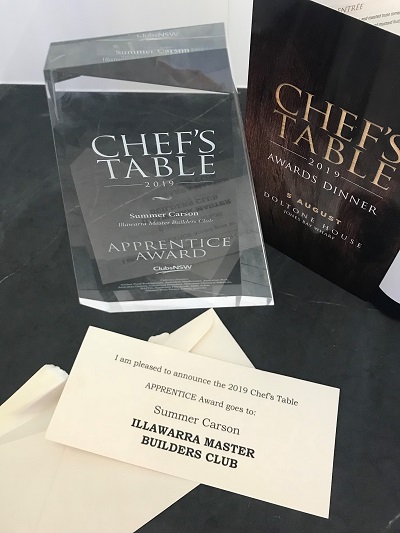 Congratulations to our talented student Summer whose consistent hard work has paid off!
Summer is an apprentice chef at the Illawarra Master Builders Club and with the support of her employer, has recently been awarded the 2019 Chef's Table Apprentice Award from Clubs NSW.
You clearly have a very bright future in this industry. We're proud of you!
Applications for the Bert Evans Apprentice Scholarships are now open and close Friday 19th July 2019. Applications will be submitted using an online portal, however paper-based applications will still be accepted to those who have limited internet access.
Employer and training provider will need to support your application by completing their sections of the application form.
Scholarships are open to NSW registered apprentices who meet the eligibility criteria including School Based apprentices.
The Bert Evans Apprentice Scholarships is to assist apprentices (including School based Apprentices) from NSW who have demonstrated
hardship in their personal circumstances
aptitude to successfully completetheir trade training
positive attitude and application in the workplace and in off-the-job training
Please find the eligibility criteria, Guidelines and Application Portal at Bert Evans Apprentice Scholarships.
To be eligible the apprentice must be:
an Australian citizen or hold permanent resident status
included in one of the equity groups:

Aboriginal or Torres Strait Islander background
apprentice with a disability
female working in a non-traditional trade for women
working in regional NSW
experiencing general hardship

in an apprenticeship arrangement that commenced between 1st March 2018 and 19th July 2019
a registered apprentice in NSW
in a trade in a skill shortage category in NSW and/or the nominee's local area
For more information please call 13 28 11 to contact your local Training Services NSW Office.
Did you complete training with us in 2018? If so, you may be invited to participate in the National Student Outcomes Survey, Australia's largest survey of VET students.
Completing this survey will help to improve training courses and programs, and help students like yourself to make better decisions about their training options.
Make sure to complete your survey early for more chances to WIN a share of $20,000!
Invitations are now being sent to eligible students.
For more about the survey, including what information is collected and how survey responses will be reported, you can read the FAQs here: https://www.ncver.edu.au/support/support/faq/student-outcomes-survey-faqs